We hebben al vele gezinnen mogen helpen tijdens een van de meest bijzondere periodes in hun leven; de kraamweek. Op deze pagina kunt u lezen wat hun ervaringen zijn geweest met Kraamzorg De Helpende Hand.
5 van 5 sterren (op basis van 47 reviews)
Great kraamweek with Vasiliki
On the 15th of November our boy Ferdy was born, the day after Vasiliki came by for the first time. As we left the birthcentre late, Pinar provided us with a lot of information over text for the first night, which was very helpful. Throughout the kraamweek she was very helpful over text, providing us with a lot of reassurance and confidence – thank you.
Vasiliki is a very nice person, helpful, patient and funny. We were very happy that she was our kraamzorg, she is informative, hands on and was very supportive on topics such as breastfeeding.
It was a great mix between help and tips. We learned in the first days and did most tasks soon after, under good supervision of Vasiliki. She guided us amazingly through the first days. It was a pleasure to have her in our home.
She was great with the baby and Ferdy really liked Vasiliki, as she was taking great care for him.
We were sad to say goodbye to Vasiliki after the caretime, but we feel more than ready to take care of our boy ourselves now.
Thank you for the support during this special time, we enjoyed it and learned a lot.
Maternity care in Airbnb
We are originally from Singapore but wanted to deliver our baby in The Netherlands as our family are here. Pinar has been great and understanding to adapt to our situation. She's kind and great in guidance. Thanks for the encouragement of breastfeeding and bathing the little one Pinar.
Excellent maternity week with Vasiliki!
I am really glad to share that I had a great experience during my maternity week with the maternity nurse, Vasiliki.
Vasiliki has been really helpful for our baby and me. She really took good care of the things that we needed, she is experienced with breastfeeding and she gave me valuable tips which helped me a lot.
She is caring and responsible person and she provides a lot of information which make you feel secure.
Thank you Vasiliki for being with us during this challenging week💓
Nathalie was a dream for us when we got the baby! Super recommended
I had my first baby this august. We are expats without family in Amsterdam. We were also very tired and stressed because we were preparing to move to Spain just a month after the baby was born. We had Pinar accepting right away with her Helpende Hand to give us Kraamzorg help, and she was super professional and helpful from day one discussing what the service and needs would have been for us! As soon as we got the baby, we had Nathalie as Kraamzorg nurse and she was an angel! She understood all my needs as a mom without experience and very tired and stressed. She was super flexible with times and needs. Big big bonus, she is a fantastic cook, we still dream about her super tasty soups and sandwiches (and we are italians very picky food usually 🙂 )!
She was caring as a family member for the baby and the baby loved her. I learnt a lot from her and now that I am in Spain I miss Naat very much! If we go back to the Netherlands and have another baby we will for sure ask about Pinar and Nathalie!! Super recommended 🙂
Very helpful and professional and in my own language!
Vasiliki helped me a lot with taking care of my first newborn baby. She is friendly and professional and it was of added value to me that she could speak Greek and communicate also with my mother at home who doesn't speak English. I would definately recomend her to Greek and Dutch/English speakers alike.
Pinar is geweldig
Je kan jezelf geen betere kraamweek wensen dan met Pinar aan je zijde. Pinar is geweldig lief, heeft veel geduld, recht door zee, enorm zorgzaam (voor zowel kind als ouders ;)) en het is ook erg gezellig met haar. Ze weet wat ze doet en heeft ons gigantisch goed geholpen met de borstvoeding waardoor ik nu met vertrouwen zelf verder kan. Een dierbare periode.
Great start on our parenthood
Having Pinar (and Sterre) in our home during the maternity week has helped us big time with the adjustments in our lives as first time parents. Pinar took time to teach us practical information at our own pace so we never got the stress in learning new things for our baby even with the sleepless nights due to round the clock feeding. The comfort and security we felt with her presence has given us confidence that we're ready to take care of our baby when the maternity week is complete. I would highly recommend her to those who are in search of Kraamzorg. It was worth having her. Thank you very much Pinar!
Kraamzorg Pinar's help
My husband and I were very happy with Pinar's help. She took good care of me and my baby and was very prompt and patient in handling all our concerns and queries. We were very concerned about baby latching and breastfeeding and she really helped us to practice it.
Super!
Op 5 oktober is ons eerste kindje geboren en wij hebben een zeer fijne kraamtijd gehad met Pinar.
Ze is zeer betrokken en past haar hulp aan naar je behoeftes. Naast de typische kraamhulp taken maakte ze voor ons ook meerdere malen heerlijke soep. Ze is zeer relaxt in de omgang en daardoor erg prettig om in huis te hebben. Overall hebben wij veel van haar geleerd zijn wij erg blij met onze keuze voor Pinar!
Beautiful kraamweek
We had really beautiful first week with our son with Natalie as our maternity nurse. She was very helpful, knowledgeable and was following our lifestyle. Natalie was also preparing food for us, super nourishing & delicious 🙂 We had also experience with student maternity nurse from Pinar's team, Stere. Very good communication with Pinar and eager to learn more.
We would highly recommend Pinar's team and services they provide.
Thank you Natalie, Stere & Pinar on the beautiful start of new chapter in our life.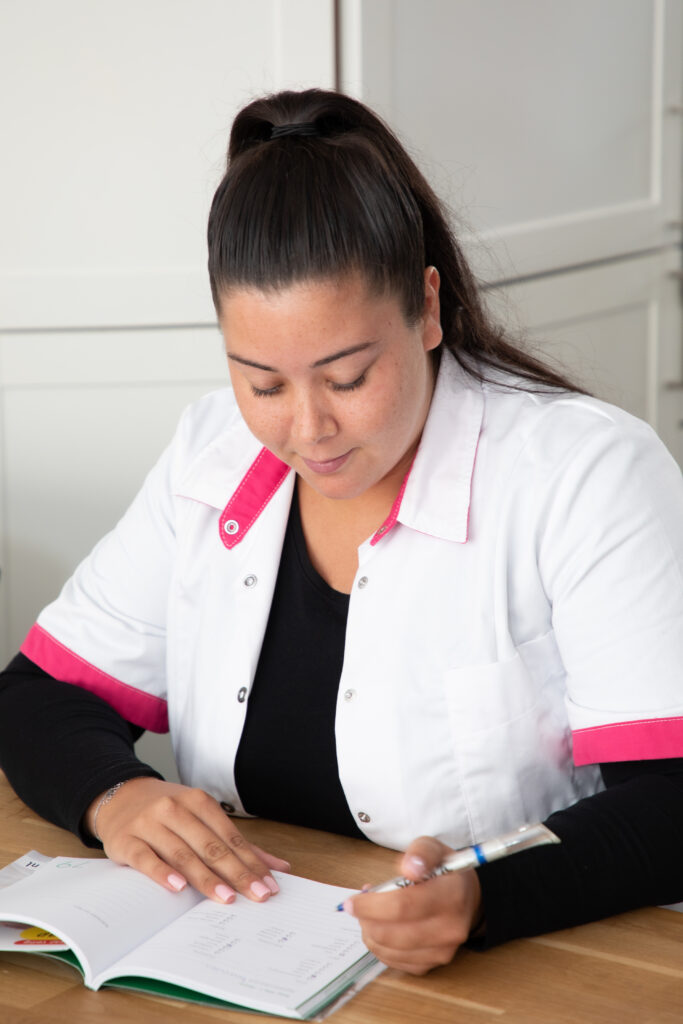 Op de Facebookpagina van De Helpende Hand kunt u nog meer beoordelingen vinden.
Wilt u zich aanmelden bij Kraamzorg De Helpende Hand? Via onderstaande knop kunt u het aanmeldformulier invullen, ik neem zo snel mogelijk contact met u op.